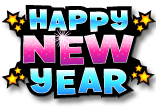 January 1, 2008
Wow! Can you believe we are already starting a new year? Seems like we just started 2007 and it's already gone. Can't get over how fast time seems to pass. It's a little frightening!
I hope this finds you doing well, warm, safe, happy, with good things to look forward to in the new year. I pray it will be a good year for you...one filled with blessings and prosperity (emotional, spiritual, physical). Life can be a mixed bag. I wish you a good mix in 2008. A very good mix!

January 3, 2008
You know, sometimes it's the little things in life that make your day. Just to give you an example, yesterday, as I drove the places I had to drive, I encountered 35 - yes, I counted them and this is an accurate number - 35 traffic lights. Normally, I would consider myself to be fairly lucky if I actually made it through about 10 of those lights. If I made it through 15 of them, I would be utterly astounded. So, imagine my complete shock, pleasure, disbelief and gratefulness when I only had to stop at 2 traffic lights!!!!!!! That's right...two. I made it through THIRTY-THREE traffic lights!!!!!! What a way to start the new year!!!!!
The little things...
Speaking of little things, here's a picture of me with my silly little Schnauzer, Zoe. I decided I wanted a picture of the two of us to commemorate the beginning of 2008. I had my normal luck (the kind that would have me stopping at all but 2 of the traffic lights instead of the other way around) trying to take this picture of us. You see, I didn't buy that great nifty attachment that lets you take pictures remotely. And since I live alone and thought calling up a friend to have them run over and snap our picture sounded like I might be asking a bit too much, I had to hold the camera in one hand, Zoe in the other, and somehow manage to snap the picture as she squirmed and wiggled and looked everywhere except in the general direction of the camera. I took over 20 pictures. All but one were pretty funny...out of focus, had Zoe half in and half out of the picture as she managed to escape me yet again...you get the idea. So this is the one and ONLY halfway descent picture of the two of us that I managed to get. After all that work, I feel a need to share!

January 7, 2008
I took some pictures of the tree damage from our awful ice storm a month ago to share with you. It's really horrible. Much more so than I could capture as I drove along the road running errands. But it gives you an idea of the extent of the damage...and the fact that it covers the whole metro Tulsa area makes it even more horrific. Limbs are everywhere. In front of every house, on houses, in fields, along the major road, expressways, in neighborhoods...literally everywhere! I hope I never live to see another ice storm!!!
Oh, and we have a tornado watch tonight until 10:00 p.m. I am SO ready to MOVE!!!!!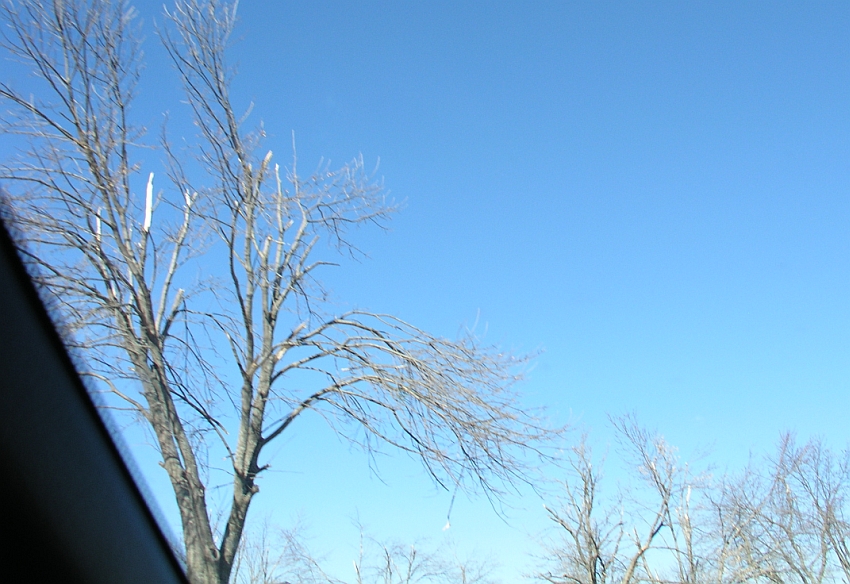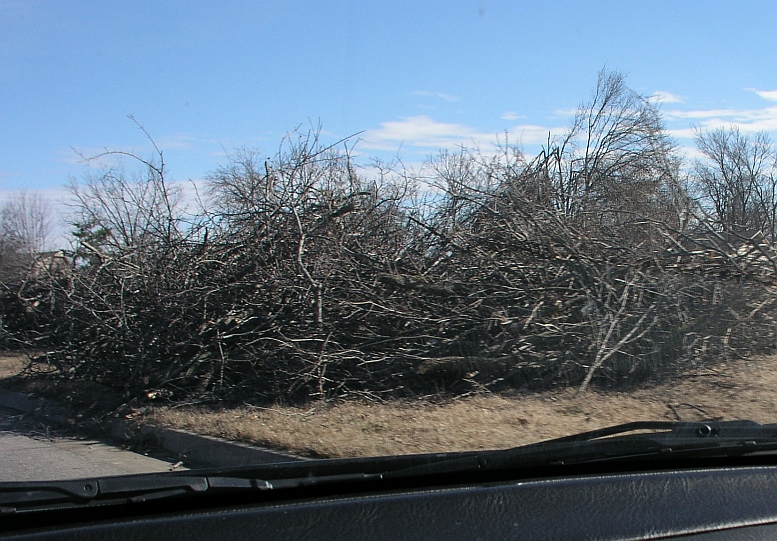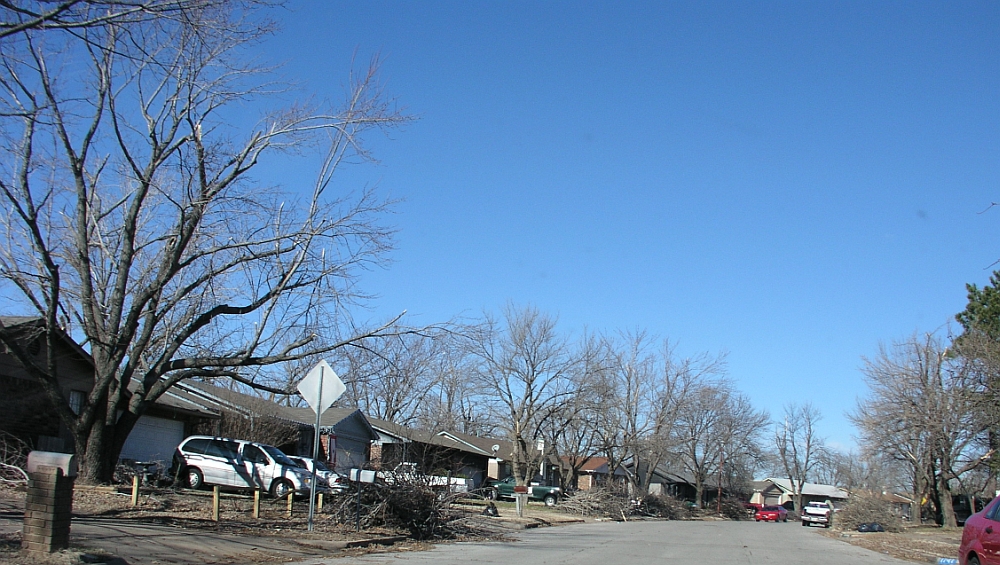 January 19, 2008
I've been in the market for pants. Having lost weight and finding myself in need of pants to wear to work, I decided to do a little shopping. However, not having any money to spend has crimped my style, so I've been doing a lot of eBay shopping, trying to make a very little bit of money go a long way. In doing so, I have discovered that everyone in the universe has long legs...except me!
I didn't know I was malformed until I started my "find good work clothes for less" quest. What I discovered is that inseam measurements are typically 32", 34", 36" or even longer! I, on the other hand, ideally need pants with a 30" inseam. It's VERY HARD to find a 30" inseam. If I go petite, the inseam is often 28" to 29", which is just a little too short unless I am looking for ankle pants. Regular is typically 32", which is too long. There just isn't much in between, though I occasionally find pants that are 31", which is still a bit long. So, I can only conclude that I have short stumpy legs and the rest of the world is populated by long-legged goddesses! No WONDER I feel so inferior all the time!!!! There is a GOOD REASON for my inferiority complex!!!! I have pudgy, stumpy legs...doesn't that just beat all?
I can't complain too much, because they still get me around pretty well, height impaired though I may be. But I'm sure this is why my imaginary modeling career never took off...well that and a few other hundred or so reasons. Reasons that are just as painful as having stumpy legs. Yep, when it comes to being a goddess, I got less. Story of my life...LOL!
I'm hoping there are other stumpy-legged people like me out there somewhere. We may need to form an organization. Hire some political lobbyists to gain some clout so we can put pressure on the clothing industry so we don't have to trod on the hem of every pair of pants we buy. Stumpy-legged people need love and respect too. We may have short legs, but we have big hearts. Why should we have to walk all over the bottoms of our pants legs all the time? It's humiliating! It's even dangerous (at least for those of us who are a bit klutzy). I'm thinking we need a t-shirt to hail our cause. We need to stick together!!! If we do, there will be new length classifications: Petite, Stumpy, Regular, Long / Tall, Extra Long, Goddess.
Or maybe I should stick to making jewelry...