April 2, 2007
This is certainly worth thinking about...
CELL PHONE vs. BIBLE
I wonder what would happen if we treated our Bible like we treat our cell phone?
What if we carried it around in our purses or pockets?
What if we flipped through it several time a day?
What if we turned back to go get it if we forgot it?
What if we used it to receive messages from the text?
What if we treated it like we couldn't live without it?
What if we gave it to kids as gifts?
What if we used it when we traveled?
What if we used it in case of emergency?

April 3, 2007
Here is another one that is worth some thought:
SAND & STONE
TWO FRIENDS WERE WALKING
THROUGH THE DESERT.
DURING SOME POINT OF THE
JOURNEY, THEY HAD AN
ARGUMENT; AND ONE FRIEND
SLAPPED THE OTHER ONE
IN THE FACE.
THE ONE WHO GOT SLAPPED
WAS HURT, BUT WITHOUT
SAYING ANYTHING,
WROTE IN THE SAND:
TODAY MY BEST FRIEND
SLAPPED ME IN THE FACE.
THEY KEPT ON WALKING,
UNTIL THEY FOUND AN OASIS,
WHERE THEY DECIDED
TO TAKE A BATH
THE ONE WHO HAD BEEN
SLAPPED, GOT STUCK IN THE
MIRE AND STARTED DROWNING,
BUT THE FRIEND SAVED HIM.
AFTER HE RECOVERED FROM
THE NEAR DROWNING,
HE WROTE ON A STONE:
"TODAY MY BEST FRIEND
SAVED MY LIFE ".
THE FRIEND WHO HAD SLAPPED
AND LATER SAVED HIS BEST FRIEND
ASKED HIM, "AFTER I HURT YOU,
YOU WROTE IN THE SAND AND NOW,
YOU WRITE ON A STONE, WHY?"
THE FRIEND REPLIED
"WHEN SOMEONE HURTS US
WE SHOULD WRITE IT DOWN
IN SAND, WHERE WINDS OF
FORGIVENESS CAN ERASE IT AWAY.
BUT, WHEN SOMEONE DOES
SOMETHING GOOD FOR US,
WE MUST ENGRAVE IT IN STONE
WHERE NO WIND
CAN EVER ERASE IT."

April 8, 2007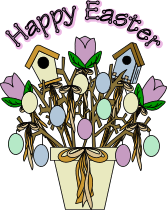 I have been trying to catch Zoe in this pose for quite awhile. She likes to lay like this...until I get the camera. She usually stretches, then lays in her "long dog" or "bathing beauty" pose after the stretch. Today, I was finally fast enough to get a couple of pictures!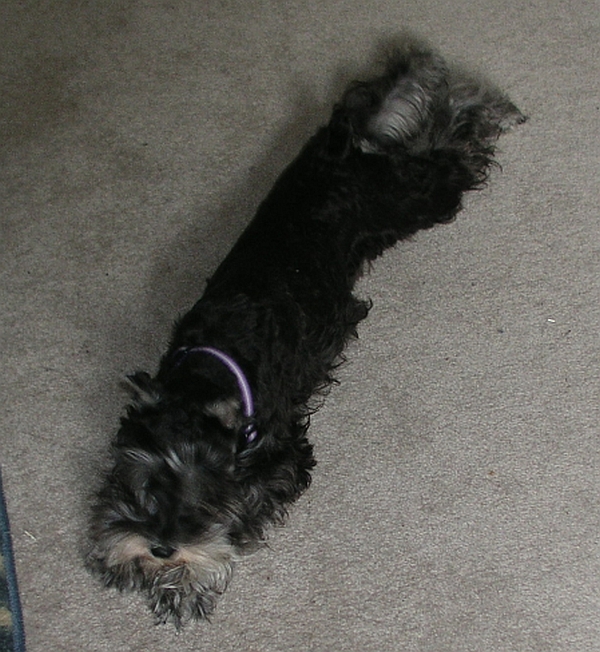 The stretch....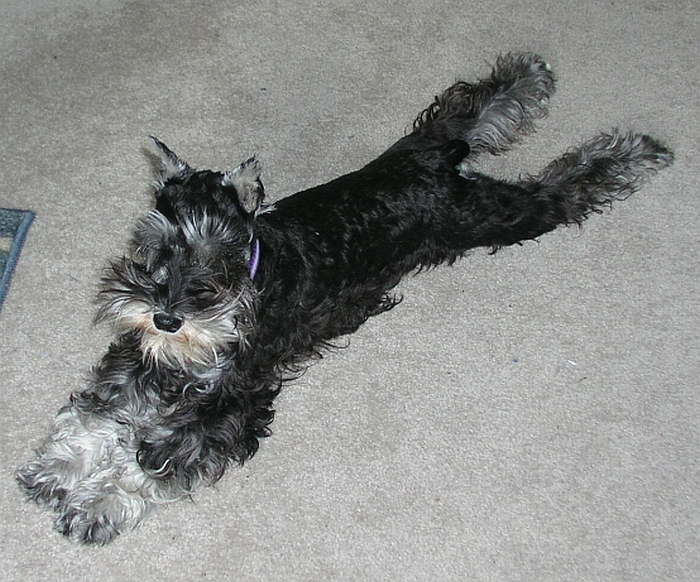 and bathing beauty!

April 11, 2007
Zoe is 7 month old today! Happy (sort of a) birthday, Zoe!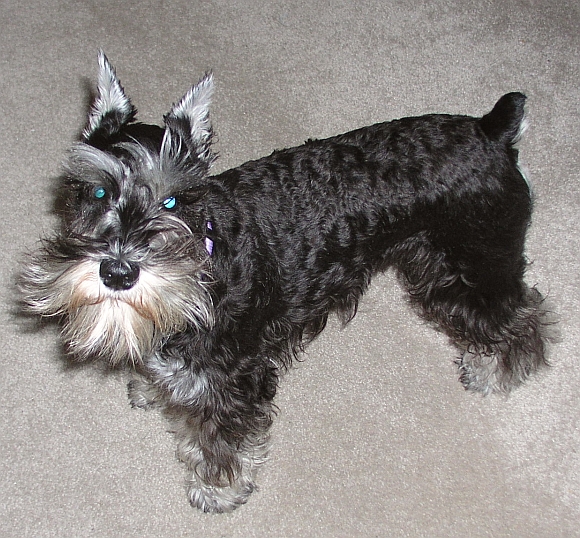 In honor of Zoe's birthday, we had some really cool clouds and nice lighting in the trees! She may not have appreciated it, but I did.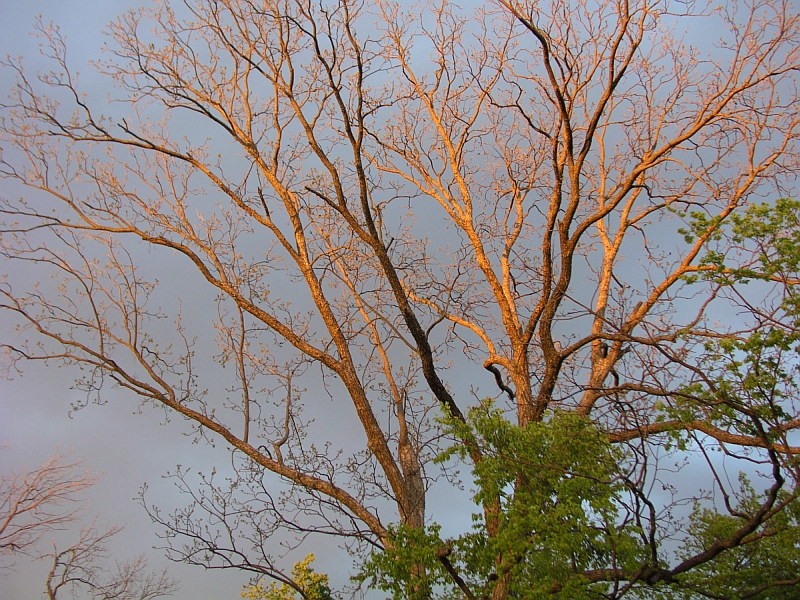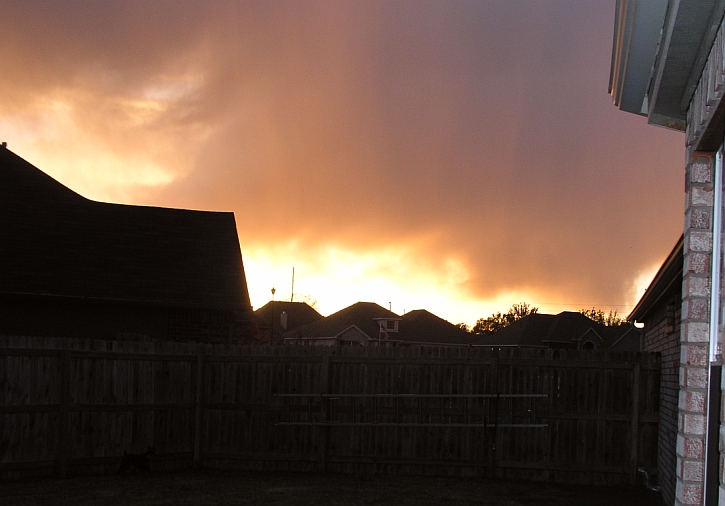 April 17, 2007
She needs a cut, but isn't she adorable! This silly little dog just cracks me up!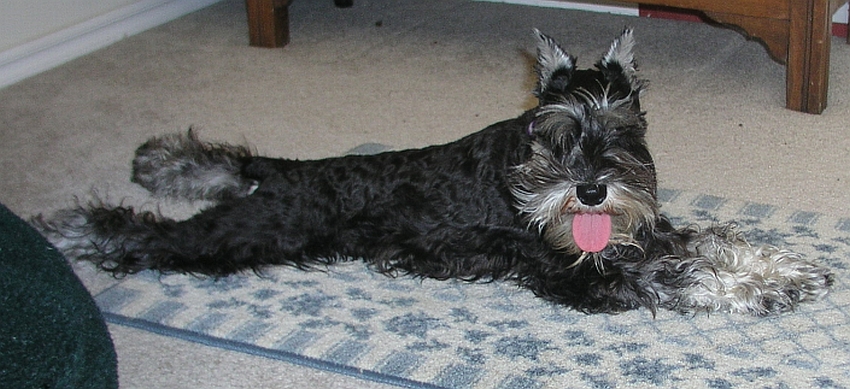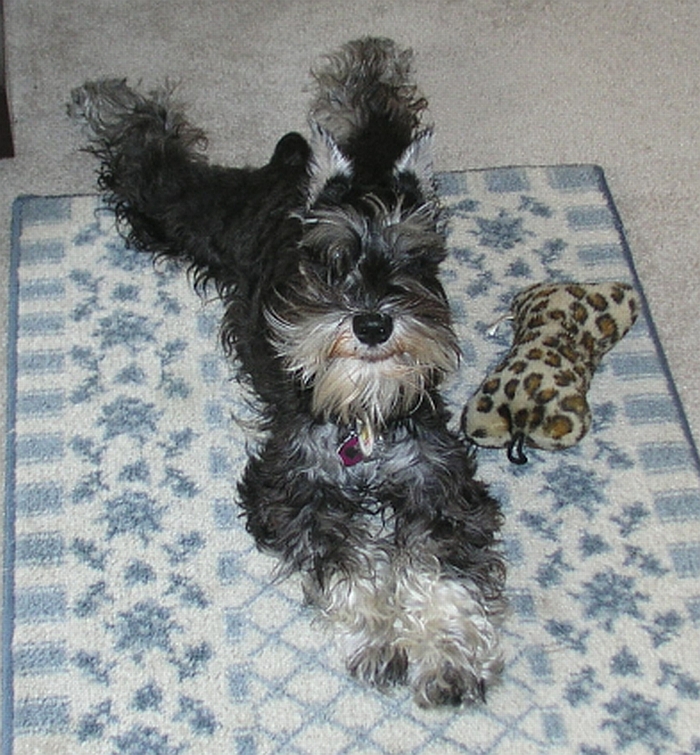 Today's the deadline for filing your taxes (or filing for an extension). Hope you got a refund!!
April 29, 2007
I have a rabbit living in my back yard. This rabbit is either stupid, likes living dangerously, or it doesn't see my Miniature Schnauzer as a threat. Could be a combination of all three.
This afternoon, we were outside enjoying the sunshine and warm weather. Every time we go out, Zoe has to re-explore every square inch of the yard (sigh!) and she had finally made it over to the side where the rabbit likes to hang out most of the time. I hadn't seen it yet...and I had been looking. Evidently, it had been hunkering down in the grass hiding. As Zoe got within 10 feet of its hiding place, it suddenly took off for the back fence, throwing itself through the slats, whacking its head in the process. (Forth possibility...head injury causes it to act crazy.) Zoe, naturally, was in hot pursuit inches behind. I was holding my breath, praying I would not have to intervene!
What is with this rabbit? You would think by now it would realize it should run away when we go out the back door. I make plenty of noise, on purpose, to warn it away. Why wait? And why wait so long?? It has a lovely wooded thicket in which to hide on the other side of the back fence, but it prefers to sit in my yard...where Zoe and the hawks can see it. Does it enjoy living dangerously? Is it playing some kind of sick game? I like rabbits. I don't want to see one die!!! I especially don't want Zoe to be the one to kill it!!
Back yards are supposed to be peaceful places of refuge. Especially on warm sunny afternoons. This "life and death game" that is being played out before my eyes is too much drama for me! Got that rabbit? From now on, when you hear us coming out, I expect you to act like a responsible animal that plans to live through the end of the afternoon. Vamoose!